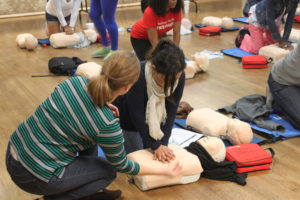 Legacy Healthcare Careers, a small institution in North Richland Hills, offers CPR/BLS training classes at convenient times. Moreover, these CPR certification classes take only a few brief hours from start to finish. Call 682.626.5266 to register for an upcoming CPR/BLS class.
Since all sessions are taught by healthcare experts in a laid-back atmosphere that permits abundant time for questions and comments, the face-to-face CPR classes make it simple to become accustomed to the material and latest life-saving methods. The environment is easy for learning.
To make Legacy's CPR classes near Fort Worth even more convenient, sign-up and registration can occur over the phone or in person at 7505 Glenview Drive Suite 1, North Richland Hills Texas, 76180. All participants of the CPR course receive full certification that is valid for two calendar years.
Call 682.626.5266 to enroll in CPR/BLS (Basic Life Support) classes at Legacy Healthcare Careers, or visit http://www.LegacyCPRTraining.com for additional information.